Microsoft Surface Duo will be equipped with new multitasking features
DH 2020-06-28 11:11:49
According to Windowslatest reports, compared with the Nokia X series, Microsoft has not made too many changes to the Android experience of the Surface Duo, but Microsoft is indeed making some useful adjustments to distinguish the Surface Duo from traditional smartphones.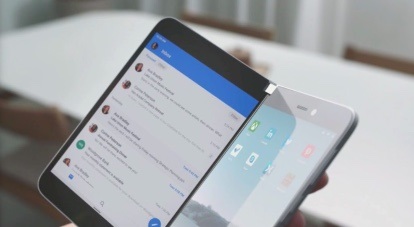 Microsoft Launcher will be the soul of Surface Duo. The company recently implemented a new landscape mode in Microsoft Launcher, which can bring a better tablet experience and allow Surface Duo to further leverage its dual-screen advantages.
  IT House learned thatMicrosoft is developing another new feature called "Application Group", This feature is very similar to the Samsung app pair on the Galaxy and Note series.
  Surface Duo's application group function will allow users to create corresponding groups, which also allows users to start two applications directly in the dual screen. In other words, this feature allows users to easily pre-select and pair two applications so that these applications can be quickly launched in a multi-window view.
  When using an application group, the device will create a shortcut and pin it on the home screen to allow users to access frequently used applications more quickly. For example, a user can create an application group consisting of OneNote and Microsoft Edge, and then click the shortcut icon to start OneNote on the left screen and Edge on the right screen.
   Earlier this week, Microsoft released Microsoft Launcher 6, which added some improvements and new features, including the use of folders to organize application drawers and other functions. In addition, Microsoft is also developing the "peep" function and stylus integration for the dual-screen Surface Duo. The Surface Duo is expected to be launched in August 2020.