BSETOOLS —The liberation of the desktop, no more messy!
xiaojin 2017-09-29 00:26:30
Make your repairing work more organized.
BSETOOLS——The liberation of the desktop, no more messy!
High Temperature Heat Resistant Heat Aluminum Alloy Gun Pad Repair Service Platform Pad WGA Welding Station BGA Tools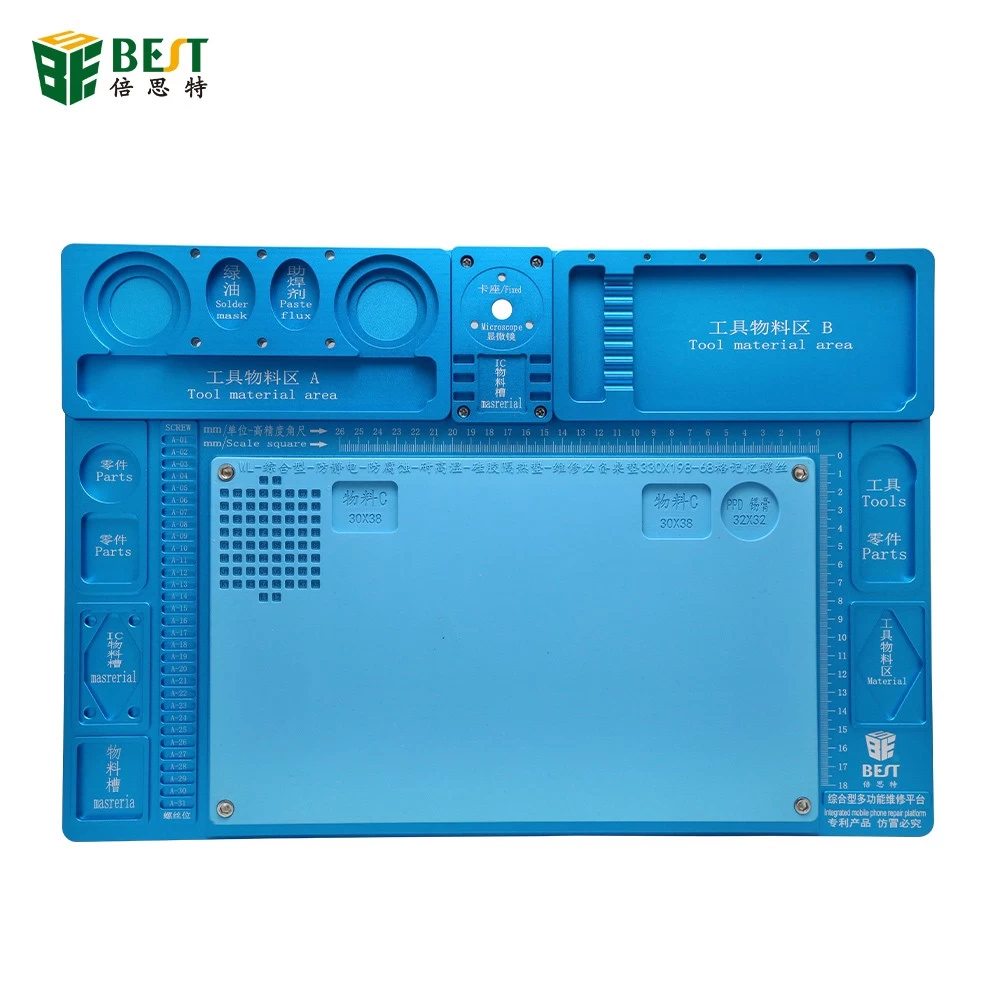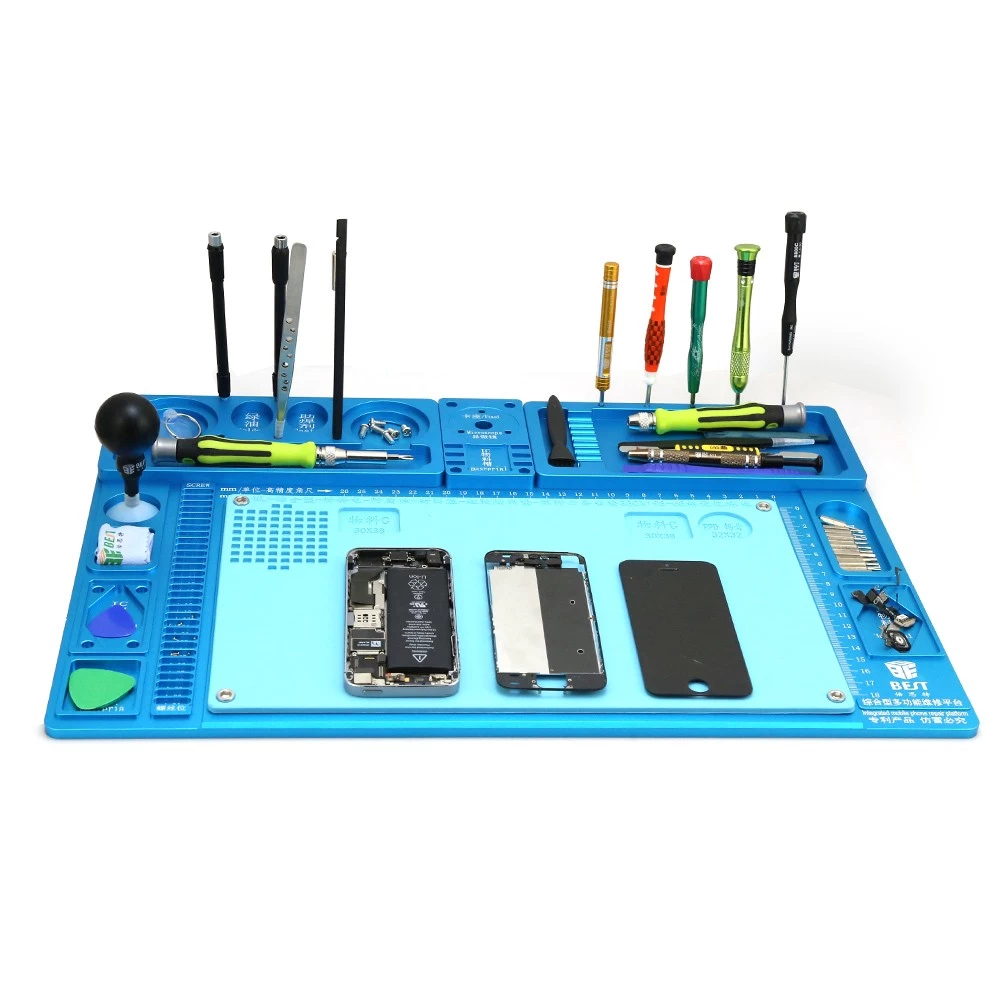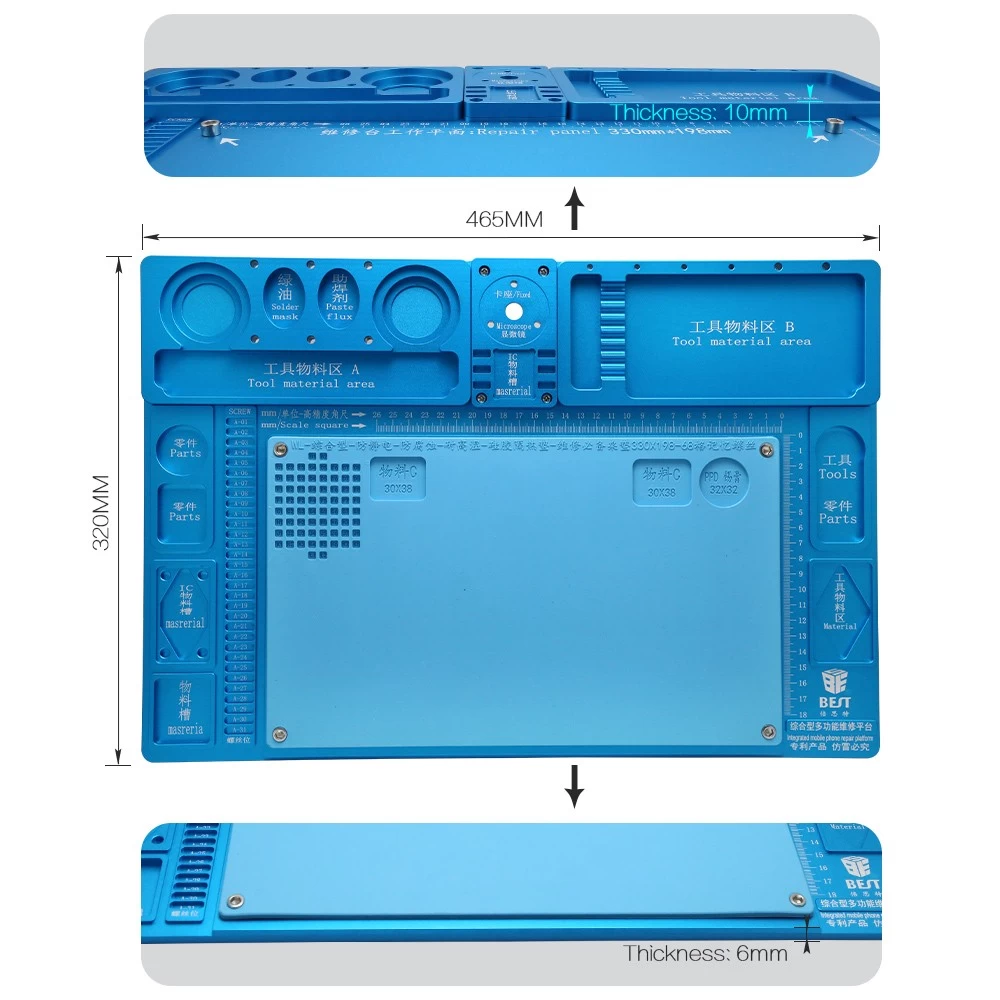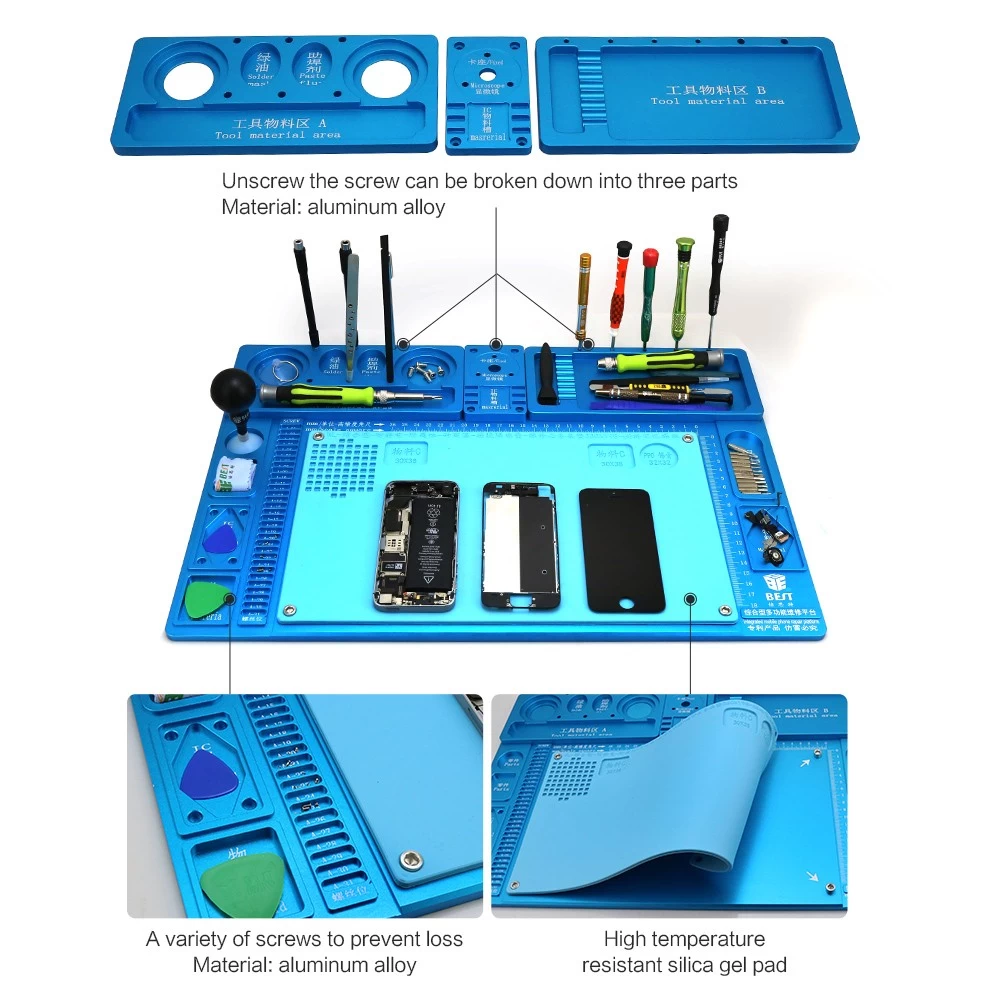 1. TThis product can bring a clean, standardized workflow for each electronic master and maintenance communication, the work environment becomes clean and tidy, and the work plan layout is humanized.
2.The extended platform is 320mm * 465mm * 6mm, it is very convenient for cleaning and repairing various items, removing, cleaning and replacing, multi-function, multi-purpose, mult-type .....it can be known and meet the needs of the large number of communications electronic maintenance engineer industry.
3.The utility model refers to an automatic memory retrieval structure, in particular for a maintenance platform, which is used for electronic service communication and is made of a fire retardant and self-extinguishing MSDS property. Specific maintenance platform includes the maintenance activity area, slot removal tools, and common maintenance provides slot placement.

4.The area maintenance part of the area has a high-precision square staircase and is an airplane affect combined with silicone pad insulation.The four corners of the column is a positioning column that is connected to the rectangular expansion zone: 320mm * 465mm * 6mm.U has an insulation pad and is resistant to high temperature to 400-500 degrees. It is very convenient for removal, cleaning and replacement as well.
5.The right side of the maintenance area printed the company's LOGO and product name.
6.The multi-slot slot function for Common Maintenance provides slot placement can be oval, round or rectangular. the slot is engraved with the size and product name, which enhances its own flexibility.
BST-45x30cm Thermal Insulation Silicone Pad Mat Work Desk Repair Station Maintenance Platform For BGA Welding With Magnetic Section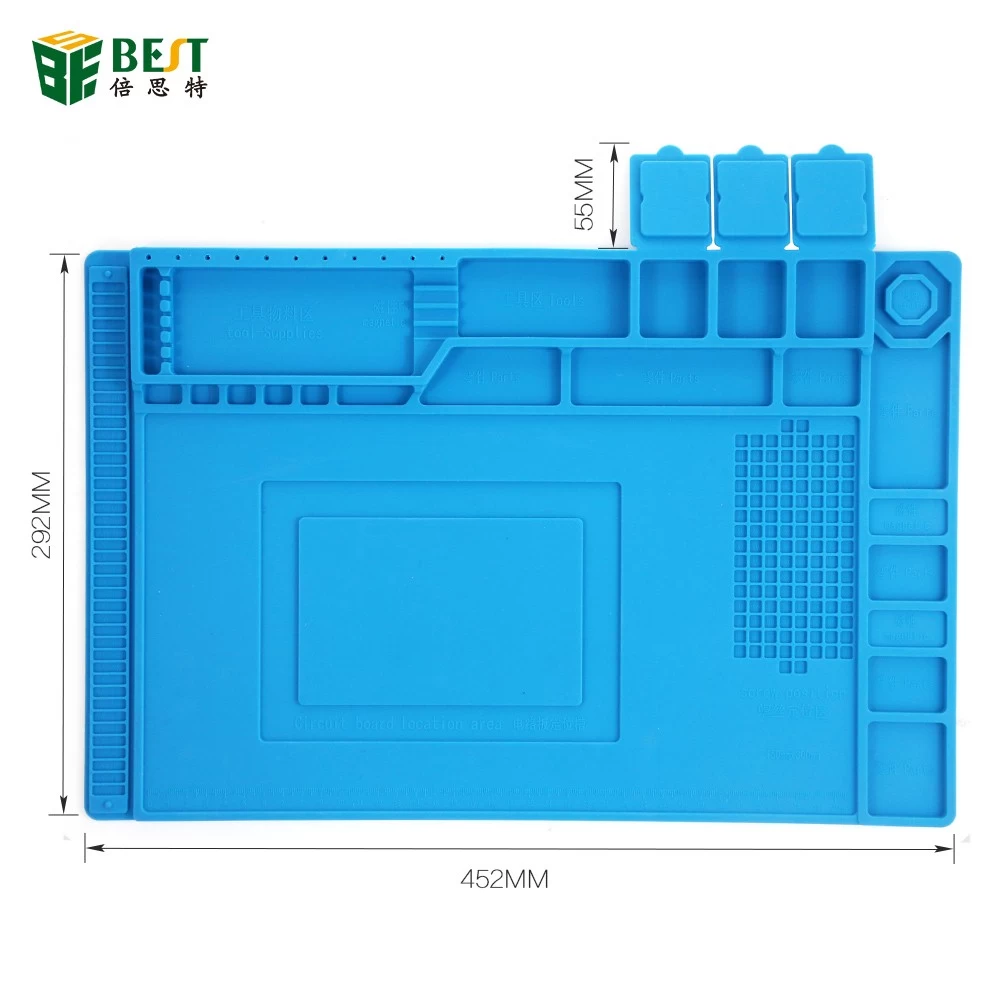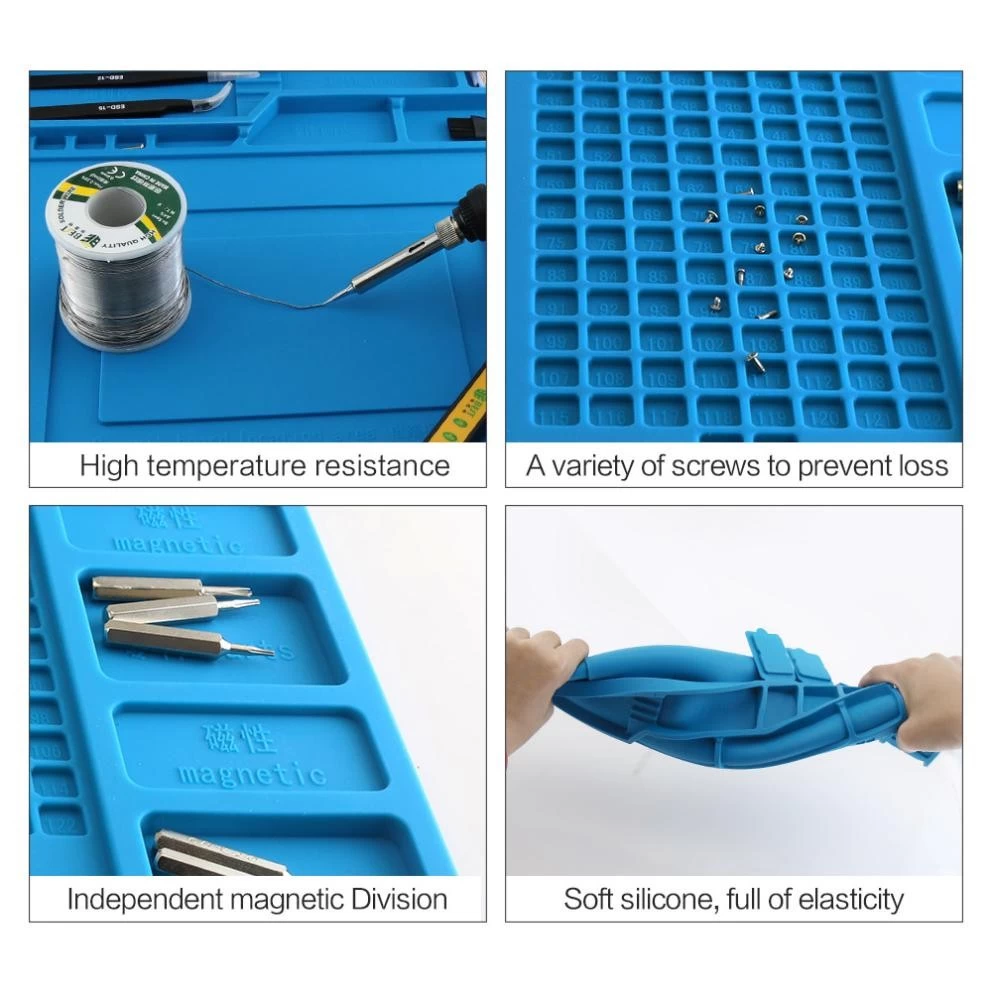 High temperature resistance    A variety of screws to prevent loss
           Independent magnetic Division    Soft silicone,full of elasticity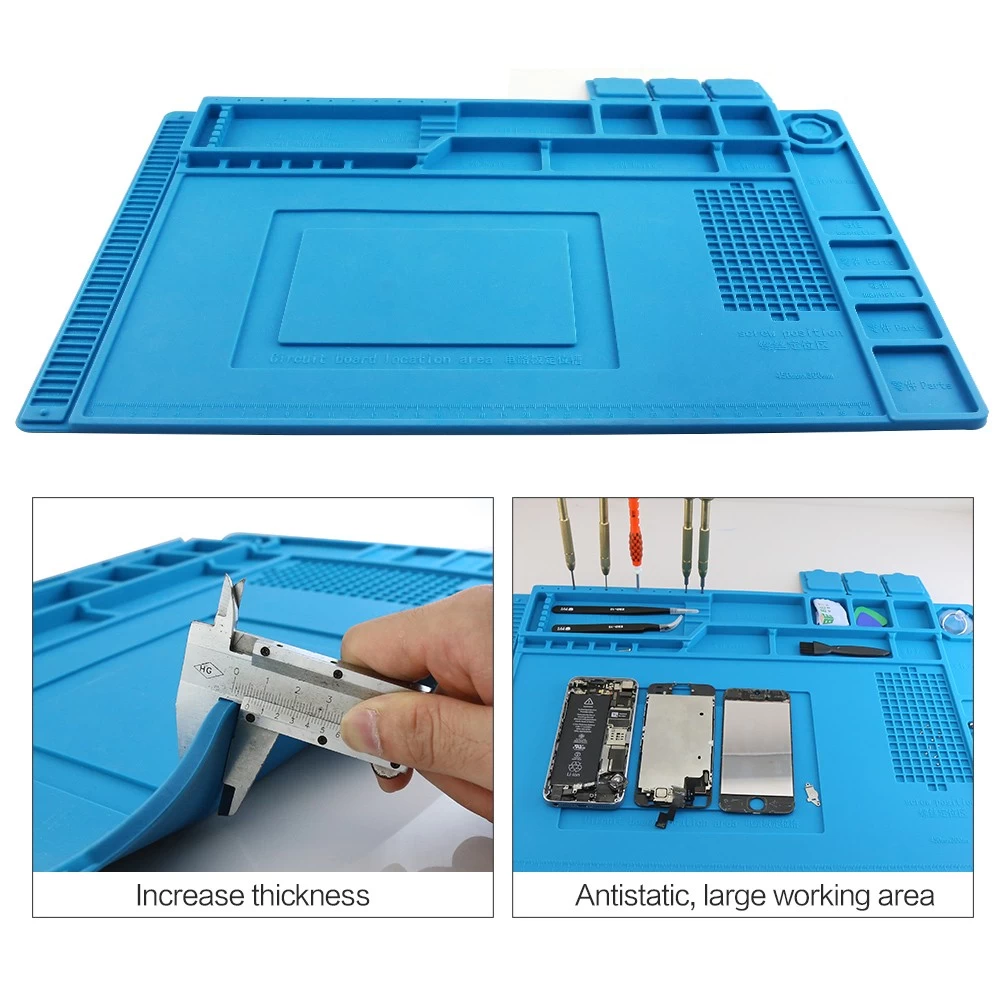 Increase thickness             Anti-Static, large working area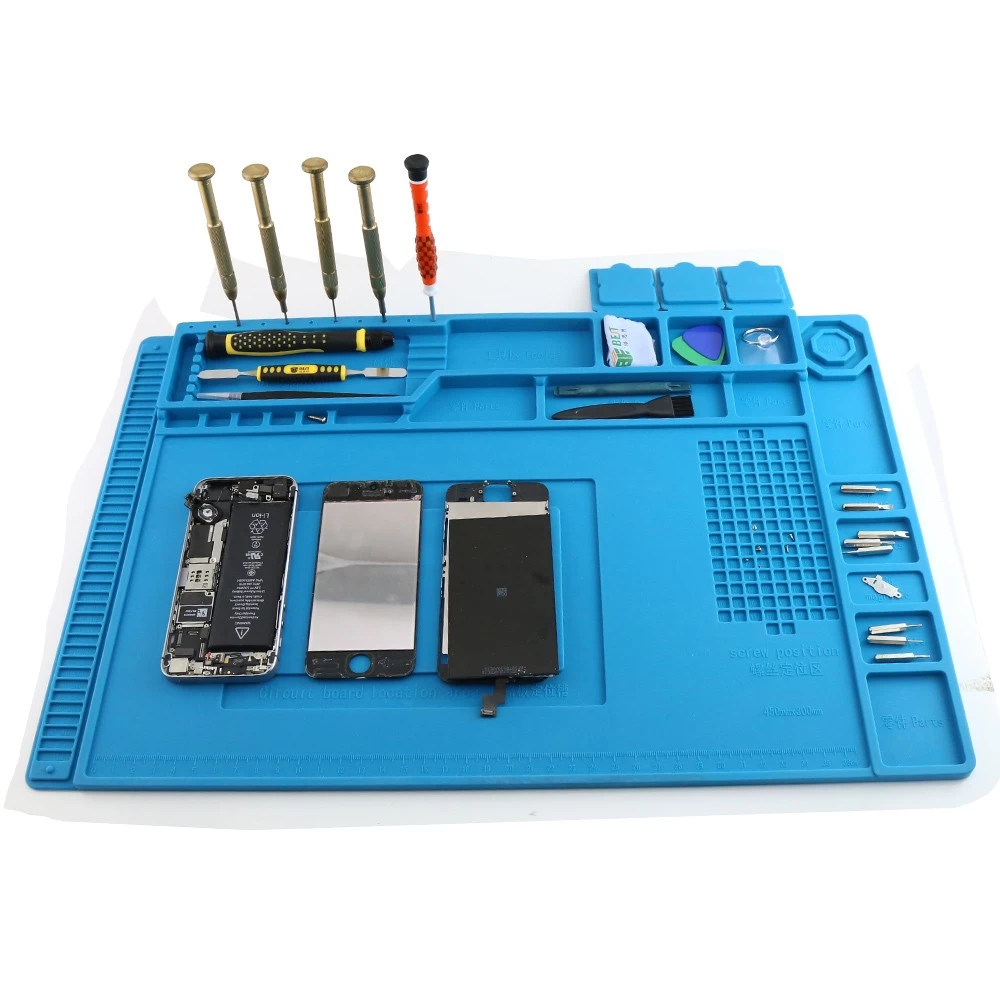 *Resistance at high temperatures of 500℃.
*Several holes for adjusting screws, IC chips and small parts.
*Built-in ruler scale (0~36 cm) on bottom section.
*Make your repair work easy.
*A good partner for hot air gun.
*Only a small section is magnetic (marked on the pad), and can be used to hold screws firmly.
Specifications:
*Size: about 45*30 cm / 17.72x11.81 inch
*Thickness: about 5mm / 0.20 inches
*Thermal resistance: 500℃
*Material: Organosilicone friendly environment
*blue color

China precision screwdriver set factory     cell phone repair tool kits factory       mobile phone repair tool kits factory