Global release! Samsung S9 real machine experience!
2018-02-26 15:12:30
At 1:00 on February 26, Samsung's latest flagship Galaxy S9, S9 + will be officially released. According to the current information, most of the new flagship parameters have experienced exposure. S9 series is still the continuation of the S8 series design style, but the screen is enhanced, and joined the double camera and dual speakers!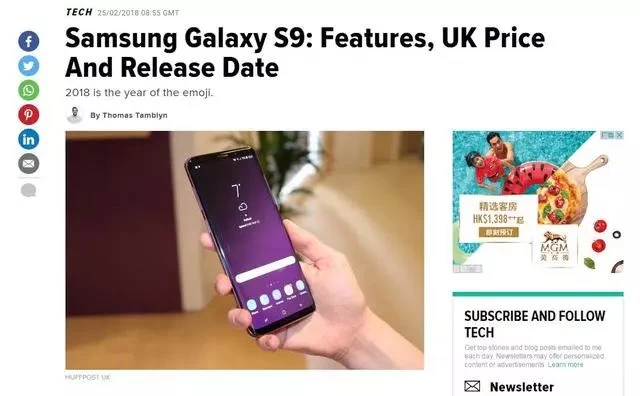 On the eve of the conference, there have been users experience Samsung S9 +
The front screen of the S9 and S8 is almost the same
Rounded full screen. Narrow forehead with a few chin, screen ratio has been enhanced. The biggest difference between the Samsung S9 and S9 + is the screen and the camera, the Samsung S9 screen size of 5.8 inches, 12 million pixels behind the single camera! The S9 + screen is 6.2 inches, 12 million pixels rear dual camera!
Configuration, the Samsung S9 will be equipped with Snapdragon 845 or Exynos 9810 processor, and S9 is 4GB of memory, S9 + is 6GB of memory! Support wireless charging, comes with AKG headphones.
It is noteworthy that, S9 + also demonstrated the latest features:
AR emoji function. Unlike Apple's Animoji, Samsung's AR emoji also comes with a background that is more real and interesting than Apple's Animoji.
In addition, Samsung S9 / S9 + will be equipped with dual speakers
Overall, the Samsung S9, S9 + is an enhanced version of the S8 series, configuration and functionality to further upgrade it.